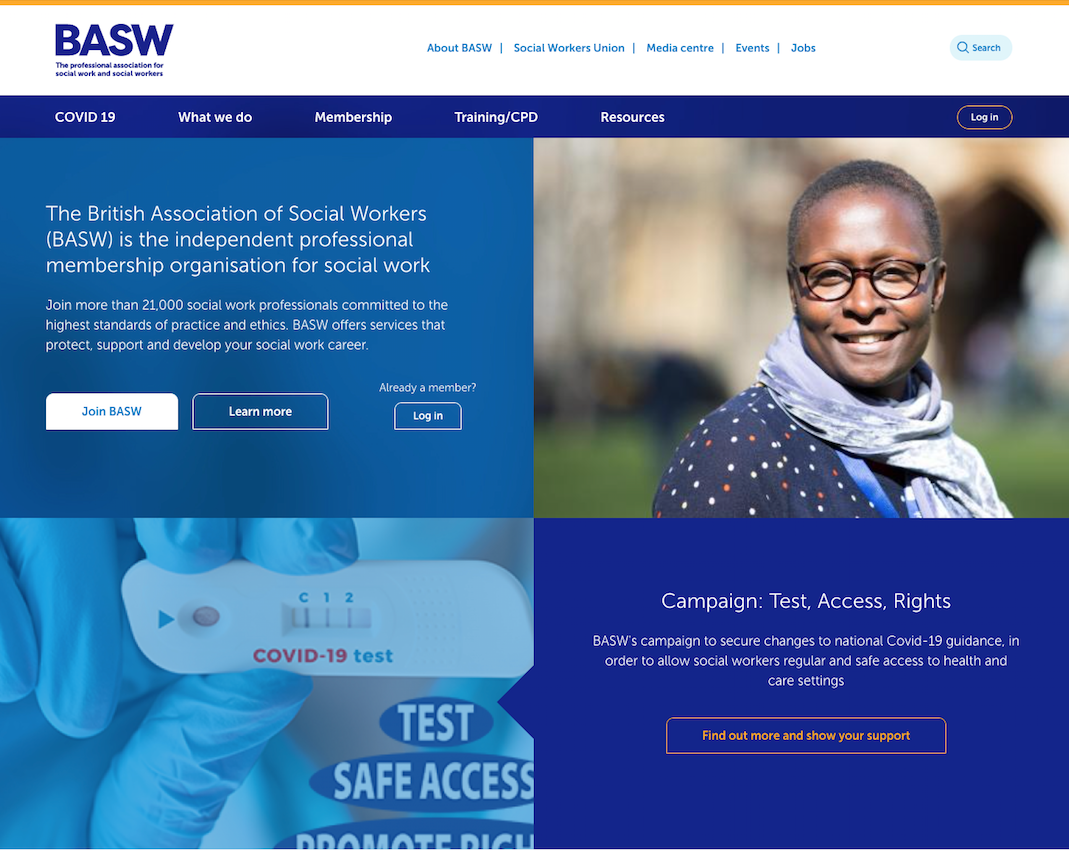 The Challenge
The British Association of Social Work (BASW) England, the largest professional association for registered social workers in the United Kingdom, wanted to undertake a review of their mentoring scheme to find out ways in which they could improve the mentoring service.
The BASW mentoring scheme was launched in 2011, following requests for support for newly qualified social workers (NQSW's) with finding work and with settling into their first social work role.
The scheme has been accessed by other social workers who needed support and guidance on finding work and continual professional development (CPD).
Those who accessed the service included overseas social workers seeking advice and guidance on working as a social worker in the UK; social workers who had been out of practice seeking advice and guidance on returning to social work.
The scheme had been subject to several reviews, the first one in 2014 which resulted in revised guidance on the scheme, published in February 2015.
BASW received feedback from some of the mentors and mentees on the scheme in 2017, the feedback received helped inform a decision for a wider review of the scheme to ascertain if there was still an appetite for a mentoring from members, also to review what other forms of mentoring support there is for social workers.

BASW are seeking the views of members in England about whether there is a need for a mentoring scheme managed by BASW, and if this is still needed what members would like from a mentoring programme, for example supporting more experienced social workers at various points of their career.
The Solution
Chinara Enterprises was selected to undertake this review on behalf of BASW, and an essential aspect of this projects approach, was the holistic involvement of BASW throughout the project development and delivery, ensuring that BASW would be able to take ownership of any revised approach to the mentoring scheme, along with being able to continue to make use of any materials developed. 
To ensure the mentoring review would provide clear results, it was important for Chinara Enterprises to establish with BASW the aim of this review.
The review sought to:
Review the existing mentoring services against best practice models
Make recommendations for a revised mentoring service
Provide recommendations on an infrastructure for the mentoring service
We used a mixture of research techniques, which helped with developing the recommendations.
The approach to the review included the following: 
Definition of mentoring: In undertaking this review, it was important to have a clear understanding of what mentoring was and the difference to coaching, as the two are often used together due to similarities in the purpose and skills required.
The characteristics of a mentor and mentee and the factors that contribute to a positive mentor/mentee relationship: This would help in terms of any recommended revisions to the scheme and any subsequent guidance.
The benefits of mentoring on social work practice:
Obtaining feedback from social workers, employers, and recruitment agencies: A crucial part of this review was to ascertain the views of these groups to assess both the need, as well as to gain an overview of what sort of service they would like.
A review of the current infrastructure, processes, guidance and templates
The Results
What was evident from this research and evaluation, was that if BASW wished to continue with a mentoring service, they needed to have a solid infrastructure around their service, so that their mentees and mentors could gain maximum benefit from their services and contribute towards enhancing the quality of social work practice.
Having consulted with representatives in BASW as well as feedback from the surveys, it was very clear that there was a strong desire for BASW to continue with a mentoring service.
The research undertaken, enabled Chinara Enterprises to draw several conclusions which helped to inform recommendations for a revised and improved service, which were:
A clear definition of what mentoring is, so that all who wish to access the service in the future are clear about what the service can and can't offer.
Clarity about who the service is for and any exclusions
The models of mentoring applied
What BASW is looking for in its mentors, eligibility and how to apply
How social workers can access the service, including guidance on how mentees are matched to mentors
Establish terms and conditions for mentors and mentees, with mentee/mentor agreements, to enable a stronger commitment from mentors
A dedicated coordinator for the mentoring service
Clear guidance, support, and training for mentors
Guidance in terms of quality assurance and risk management processes in place
The conclusions derived from this research, helped to provide BASW with transformative results for them to consider as part of developing a mentoring service.